Giving thanks to our team at the 2016 Tunstall staff awards
February 24, 2017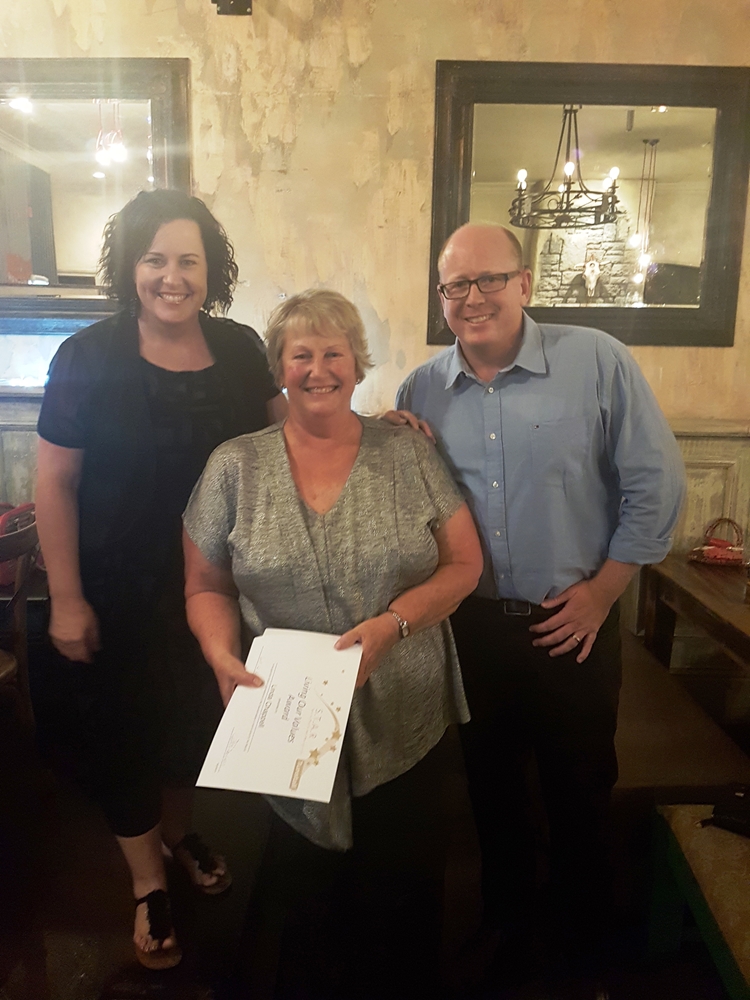 At Tunstall Healthcare we provide people with connected care solutions and support through a holistic approach. Naturally, as successful global organisation, we need our staff to be passionate about what we do and maintain the excellent levels of service we are known for.
To recognise the exceptional efforts our employees dedicate to provide support to both colleagues and clients, we designed the Tunstall Special Thanks and Recognition (STAR) program. It encourages staff to live and breathe our values of choice, quality of life and person-centred care and facilitates the high level of service expected at Tunstall.
At the end of each year, at our Christmas events, we present our top employees with a certificate and trophy – their STAR award – to showcase that their efforts are valued. Recipients are nominated by other staff and can receive multiple awards.
Without further ado, here are our 2016 recipients of the STAR awards for Australia and New Zealand.
Australian award winners
1. The Enid Potter Award
Our first trophy recognises the point of difference a person makes in other's lives. It is awarded in memory of a valued Tunstall client, Enid Potter and nominated by the Managing Director.
This year, Lisa Capamagian was selected because of her commitment and dedication to upgrading more than 30,000 clients to mobile 3G alarms. Putting Tunstall's clients at the centre of her work, Lisa remained an energetic and passionate leader throughout the long months of planning and resource management.
2. Outstanding Client Service Award
We provide customer-centric support at Tunstall as a whole. Yet Jacqui Bauer was nominated by the executive team as going above and beyond, consistently prioritising our clients. Described to have a "nothing is too much trouble" attitude, she deserves recognition for ensuring all outcomes meet Tunstall's commitment.
3. Living Our Values (LOV) Award
Jacqui's efforts didn't go unnoticed by her co-workers either, receiving the most votes for embodying the Tunstall values. Comments from voters highlighted her positivity and generosity, pointing towards her tendency to work longer hours to help other staff.
"I feel that Jacqui breathes and lives Tunstall –  she is the most optimistic, approachable person.  An incredibly patient  individual and always willing to pass on her knowledge Jacqui is a great ambassador for Tunstall in and out of the office."
In short, her colleagues value the fact that the cheerful powerhouse sets an exceptional standard employees should strive for.
4. Outstanding Professional Development Award
At Tunstall we are not only about our clients' positive development, but also encourage growth in a personal and career level for our staff. In 2016, the executive team concluded that Leanne Watson-Hall deserved recognition for her efforts to continually improve everything she does.
We are lucky to have someone like her striving to overcome each challenge, bridge knowledge gaps and be as effective as possible.
5. The Brian Cassidy Award 
Dedicated to Brian Cassidy, Tunstall's former Electrical Technician, this award celebrates outstanding innovation and solution design. Nominated by the executive team because of his dedication to help the organisation push its position as industry leader, Zodian Casserly took home the trophy this past Christmas.
Zodian is known for his commitment and self-determination to increase the company's portfolio, something that includes introducing new dimensions to the Patient Portal, Video Conferencing as well as new telephony services (including PABX upgrades) and call centre features.
New Zealand award winners
1. The Don Barr-Smith Award
Honouring Tunstall's first New Zealand client, the Don Barr-Smith Award is the Kiwi recognition of an employee making a difference in the life of others.
In 2016, Tracee Scott was nominated by the Managing Director because of the value she adds to both her colleagues and clients. Her seemingly limitless knowledge and willingness to share it with others is unparalleled.
2. Living Our Values (LOV) Award
Linda Chappell won this people's choice award based on her empathy and commitment with clients. Her ability to translate her in-depth product knowledge in an easily understandable manner to colleagues in training, in addition to her willingness to help out whatever way she can has given her a reputation of 'going the extra mile' each time.
3. Outstanding Professional Development Award 
In New Zealand as well, we encourage Tunstall staff to embrace our organisation's values and support personal and professional career growth.
The executive team decided that in 2016, Aleisha Leitch-Diamond showed immense personal development as a Customer Care Consultant. She has not only supported fellow employees – particularly the weekend team – but upped her skill set as an experienced professional.
Without our exceptional staff, we wouldn't be where we are today. So thank you to all our amazing employees for deciding to be the productive, passionate individuals you are!
To learn more about working at Tunstall, visit Careers at Tunstall. And for more information about our services, feel free to contact our friendly customer service team on 1800 603 377 or at info@tunstallhealthcare.com.au