Taking a look at 60 years of Tunstall
April 27, 2017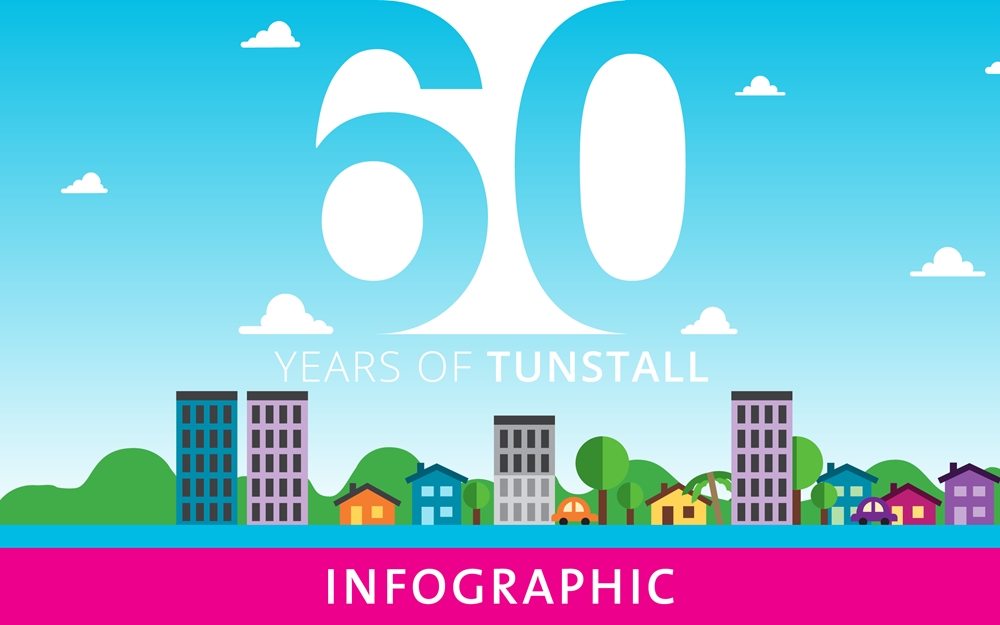 When we think back on the last six decades of Tunstall, there is a lot to be proud of. Evolving from a small TV and radio shop in 1957 Yorkshire in the U.K. into a global connected healthcare solution provider – it has been an exciting journey.
Let's recall some of our biggest milestones throughout the years.

Back to the beginning
The initial years of what was then called Tunstall Byers Electronics were characterised by pioneering technology such as the first Warden's Intercommunication call system (WICS). This was followed by Talkback, the first warden call system to use the Automatic Monitoring Network to transmit alarm calls over a public telephone network.
Then the evolution of monitoring software to handle dispersed and grouped calls alike in the late 1970s started to give patients and carers more freedom and flexibility.
All these advancements called for an expansion of the Tunstall facilities though 1983, and operations moved to Whitley Lodge, which became head office and home to a state-of-the-art manufacturing facility.
Moving into connected healthcare
As the years went by, Tunstall continued to innovate and grow. In the late 1980s, that meant the introduction of the first real-time, multitasking monitoring centre. In the following decade our operations expanded to Canada, Spain, Germany and Netherlands, only to be followed by the first Tunstall-equipped response centres in Australia and New Zealand.
Just before the turn of the century, Tunstall achieved the internationally recognised quality standard ISO 9001 for our design, manufacture and installation and service of emergency alarm systems. It was a key milestone for us since it gave us the official accreditation that supported us becoming a global leader.
After getting ISO accredited, Tunstall began to pioneer telecare with a range of wireless sensors in 2000. Shortly after, the first branded response centres opened in Australia and New Zealand, setting the tone for a new approach to connected healthcare.
The lead-up to the future
The last decade has been one of the most innovation-driven in terms of technology at Tunstall. In 2010, we launched our first telehealth solution that allowed patients to monitor their vital signs from the comfort of their homes. Then, two years later, we grew a presence in America after acquiring American Medical Alert Corporation.
Only last year, Smart Hub, our first digital IP alarm, launched and, on top of that, we entered the mobile market with the myCareTrack app. This particular innovation enables users to use a GPS and SOS function even when they're in remote locations.
We might not know what the future holds, but what we can say for certain is that we will continue to help people stay healthier and independent for longer. Innovation and development of new technologies in connected healthcare are set to revolutionise how we see healthcare again and again.
So come along for the next 60 years of holistic health and innovation at Tunstall; we can't wait to see where it leads us.