Prescribing assistive technology for DVA members made easy with Tunstall [INFOGRAPHIC]
November 24, 2015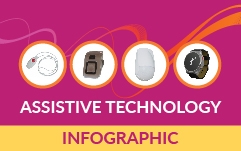 As technology becomes an ever-increasing presence in the lives of many, there is also the chance for it to benefit those in need of additional support.
At present, almost 15 per cent of our population is aged over 65 and there are an estimated 4 million Australians with a disability. With only one in eight of the population acting as a carer in some shape or form, this raises the question, how else can we as healthcare professionals provide assistance?
Supporting our nation's DVA members
In Australia, there are over 250,000 DVA members, a figure comprised of veterans and war widowers alike. A number of these DVA members could benefit from assistive technology to enable them in living a full, independent life, which is why the Rehabilitation Appliances Program (RAP) was established.
Under the RAP, eligible DVA Gold Card holders (and White Card holders in certain circumstances), can receive funding for a personal response system, or PRS from Tunstall Healthcare. Other devices covered by the RAP include an automatic fall detector as well as the next generation Find-me watch.
If you are a registered nurse, occupational therapist, GP or physical therapist, you can refer your clients by filling in a DVA D9199 assessment form online, which you can do here. Once you have completed the form, and your client's eligibility has been assessed, Tunstall can provide installation of the equipment, as well as client training.
As our Tunstall PRS is connected to our 24/7 monitoring centre, you can rest assured that help will always be close at hand, 365 days a year.
You can find out more about prescribing assistive technology for DVA members in our helpful infographic below, but you can also contact our friendly team for further information.