How does 24/7 monitoring work?
April 28, 2015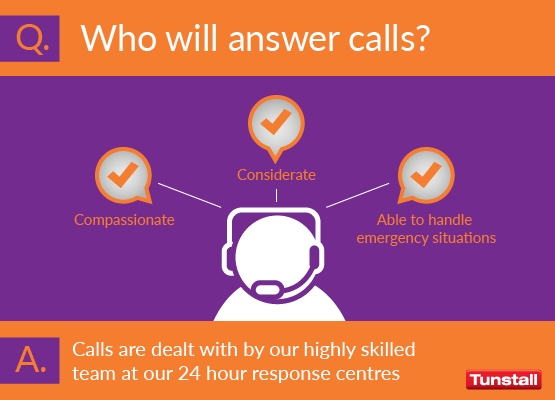 In many circumstances, it can be difficult to predict exactly when an incident may occur. Here at Tunstall, we believe that you should be able to speak to a real person when it's needed most, so that we can provide the necessary assistance.
This is achieved through our 24/7 monitoring system, so both clients and their loved ones or carers can have the peace of mind that someone will always be able to answer their call in a time of need.
How does 24/7 monitoring work?
24/7 monitoring can encompass a range of different scenarios. In some cases, our operators will simply call clients for a catch up as well as being a friendly voice at the other end of the line.
In the case of an accident or emergency, through a medical alarm call or lone worker call for assistance, an operator will be on the line to determine what assistance is needed.
Even if a client is unable to speak to an operator, the PNC7 call management system will provide information on the caller, where they live and any medical conditions, as well as which device has set off the alarm and who to contact in case of an emergency.
Who will answer calls?
With two 24-hour response centres located in Brisbane, Australia and Tauranga, New Zealand, calls are answered by our highly skilled response operators, who as well as being compassionate and considerate, are also capable of handling emergency situations.
Our operators will stay on the line with a client until help arrives, and can also conference in with a family member or ambulance service if necessary. Tunstall will always contact a client's nominated next of kin should the client be taken to a hospital.
What are welfare calls?
Welfare calls serve the purpose of checking a client's wellbeing and can also provide a gentle reminder for clients to take medication.
If a client fails to activate the alarm call on their pendant by a certain time each day, the response centre will call to check whether everything is alright. If a client does not then answer the call, the operator can take action to organise help.